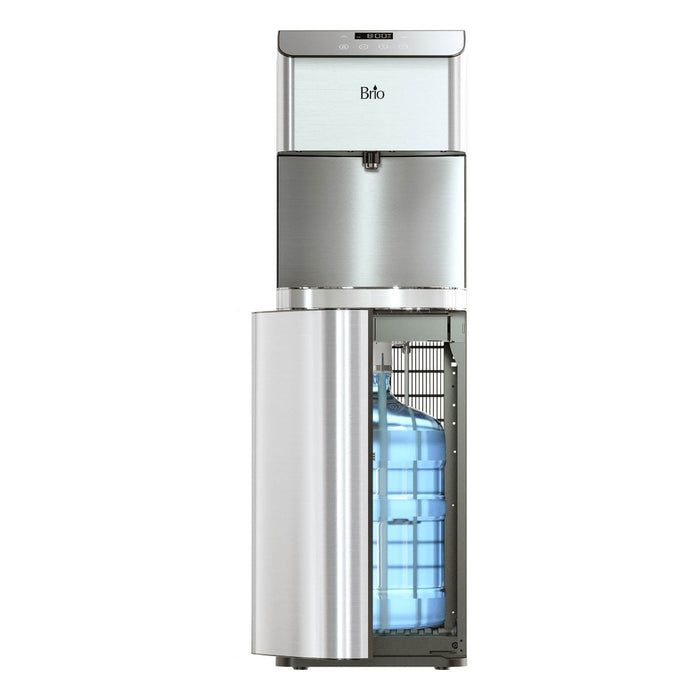 Brio Bottom Load Hot, Cold & Room Water Cooler - Self Clean Ozone - Tri Temp W/Touch Dispenser Feature
ADJUSTABLE HOT & COLD WATER: Brios' bottom loading water cooler dispenser is unlike any on the market, you can choose a personalized temperature for the cold and hot output, making it perfect for cool refreshments or toasty beverages, satisfying all your hydration needs. Brio Water gives you the ultimate hydration experience by giving you complete control, you can choose to enjoy water as cold as 39 degrees Fahrenheit or indulge in water that is as hot as 174 degrees Fahrenheit.

SAFETY FEATURES: Never worry about accidental pouring of hot water again with the 2-step dispensing on the hot-water spout. Brio goes above and beyond to ensure the safety of you and yours, the child-safety lock prevents any accidents from occurring, protecting the safety of you and your loved ones. Simply release the lock dispensing button and enjoy soothing hot water at your fingertips. Illuminate hydration with the LED nightlight that ensures that you won't overfill or spill water.

BOTTOM-LOAD WATER DISPENSER: Don't struggle to lift heavy bottles and simplify your life with a bottom loading cooler. The cabinet fits either a 3- or 5-gallon jug and perfectly accommodates both. The bottom loading cooler quickly pumps water through the cooler and ensures that you will always have hot and cold water on hand. As a bonus, the bright electronic display provides a notification when the bottle is running low, so never be left without water.

SELF-CLEANING OZONE: A clean cooler shouldn't be complicated, so we simplified it for you. Enjoy minimal maintenance with the water cooler that utilizes a self-cleaning feature. Keep the unit in pristine condition at a touch of a button when you activate the Self-Cleaning Ozone that sanitizes the water tank and lines. Use the feature overnight or when the cooler will not be used for a minimum of 90 minutes, ozone technology will thoroughly sanitize the cooler and kill bacteria and biofilms.

LONG-LASTING: Powerful and long-lasting, Brio Water Coolers withstand the test of time. The durable cooler is made of premium stainless steel that ensure years of use. Brio Engineers guarantee that each cooler is Energy Star Approved, so invest in the brand that efficiently uses electricity and always keeps you in mind. With simple maintenance, this steel framed cooler will provide you with all that you need and more for years to come.