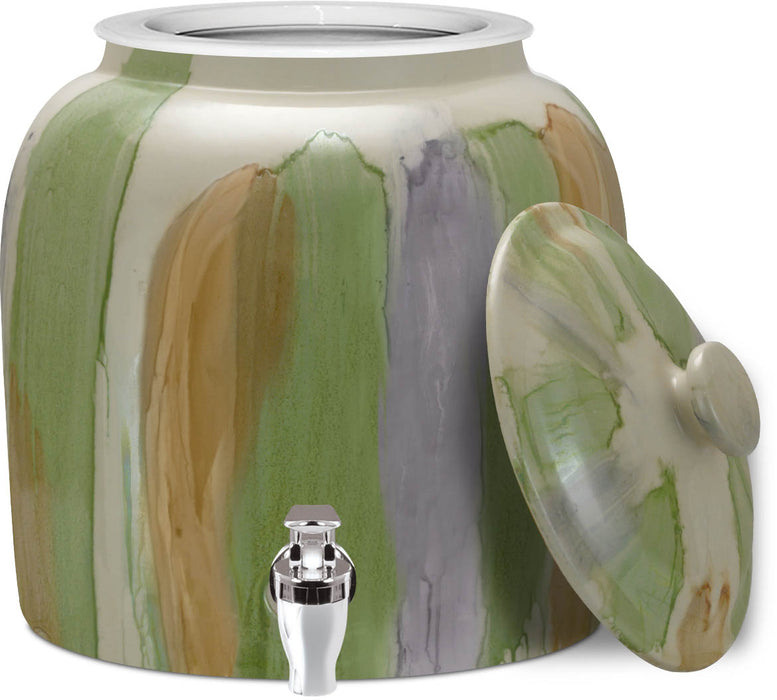 Brio Pastel Paint-Stroke Crock w/Lid & Faucet
Chic design with subtle hints of pastel brush strokes make it the perfect addition for any setting. The neutral base paired with subtle pastel strokes give a timeless quality to the crock, lending itself for a elegant touch to any environment. 
This porcelain crock is easy to setup oneself. It supports 2- to 5-gallon round or rectangular bottles and can be placed on any flat surface.
It does not require electricity to keep beverages cool as its porcelain body maintains the temperature of beverages for several hours. 
Crock is 100% free of lead and cadmium and has a BPA-free lever faucet to ensure the health of consumers, as it meets FDA standards.
Product is dishwasher safe for an easy and thorough clean, 
Crock is 9 1/2" tall and 9 3/4" wide, and it is compatible with any of our counter or floor stands.
A lid is also included with the crock to keep beverages safe from contaminants.