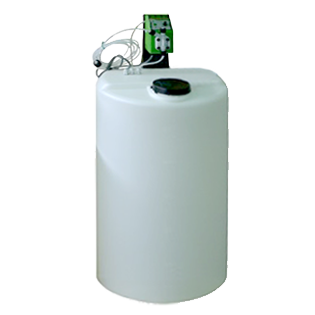 Dosing Station; Proportional Rate 0.1‒7.0 L/h, 60L
Ecosoft Dosing Pump Kit station is intended for dosing of antiscalants, biocides, water solutions of chemicals for pH adjustments and reduction of water corrosive activity. the reliable kit allows for adjustable injection frequency and protection against power surge and peak voltage. 
Ecosoft Dosing Pump Kit Station includes:
Dosing pump 

Foot filler with suction valve

Injection valve

Pack of tubes for connection 

Reagent solution tank 
Solution tank volume is 60 liters.
Impulse meter DN is 25