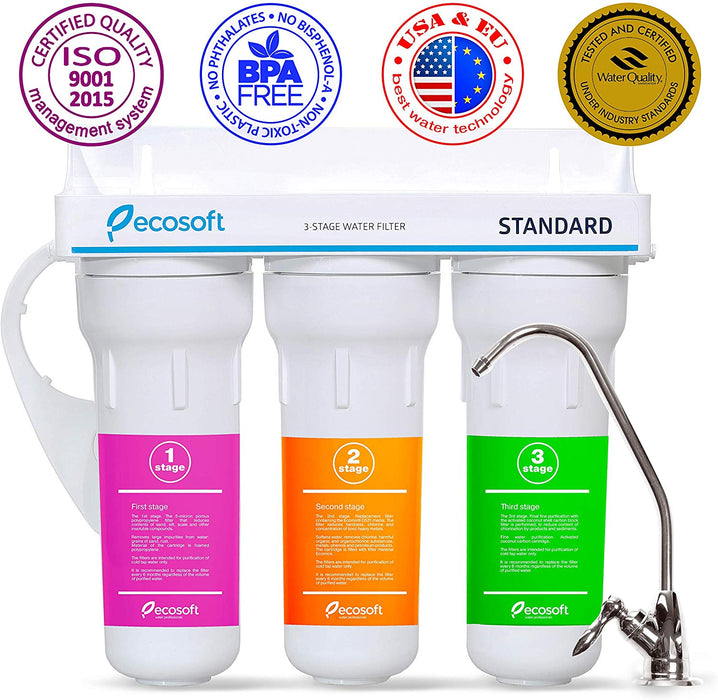 Ecosoft 3 Stage Under Sink Water Purifier Filtration System with Kitchen Faucet and Extra Filter Cartridge - White
Product Specifications
Item Weight : 9.2 pounds
Package Dimensions : 15.8 x 14.5 x 6 inches
Color : Multi
Batteries Included? : No
Batteries Required? : No
Features
KETTLE & IRON WITHOUT LIMESCALE! Our water filtration system makes water softer, removes organochlorine & mechanical components, lowers levels of manganese & iron. The house water filter system reduces water-hardening salts, concentration of heavy & non-ferrous metals, preventing limescale formation.
BPA FREE SAFETY! High quality plastic of water filtration systems provide best everyday experience for you and your family.
DELICIOUS WATER ANY TIME! This water filter system delivers valuable pure water for both drinking and cooking. Make healthy dishes full of vitamins!
EXQUISITE DESIGN! Gorgeous modern faucet of kitchen water filter system will beautify your kitchen. Beautiful home, beautiful body, beautiful soul!
CARTRIDGE REPLACEMENT EVERY 6 MONTHS! House water filter system is durable, but only about once in a half year cartridges need to be changed. Use pressure gauges to monitor the pressure: it drops – time to change the water filtration system's cartridges.
›
Product Description :
Want a long and healthy successful life? Consider improving the quality of water you are consuming with an amazing water filter!
ENJOY ECOSOFT 3 STAGE WATER FILTER!