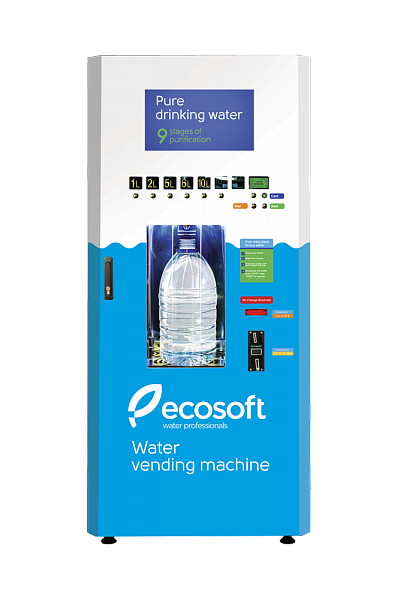 Water Vending Machine, Bottle Filling Machine, Ecosoft RO KA-250
The Ecosoft RO KA-250 vending machine is intended for purification and pouring of water into consumer bottles. It represents the ready-to-use module consisting of several functional units:
The water purification unit includes 9 consecutive stages: reduction of sediments, of chlorine with activated carbon, of water color, water softening, removal of up to 99.8% of all impurities with the reverse osmosis membrane, adjustment of water pH, improvement of taste and odor, remineralization and UV disinfection.

The water pouring unit is a terminal for placing and filling the customer bottles with water, volumes 0.5 to 18.9 L.

The payment unit is presented by the bill and coin acceptor and magnetic card reader.

The telemetry unit, the key component of which is a multifunction controller with GSM/GPRS module. Provides the following operations: control of the reverse osmosis system operation and pouring process, blocking of the operation in emergency situations, display of warning and emergency messages, remote transmission of the emergency messages by SMS.