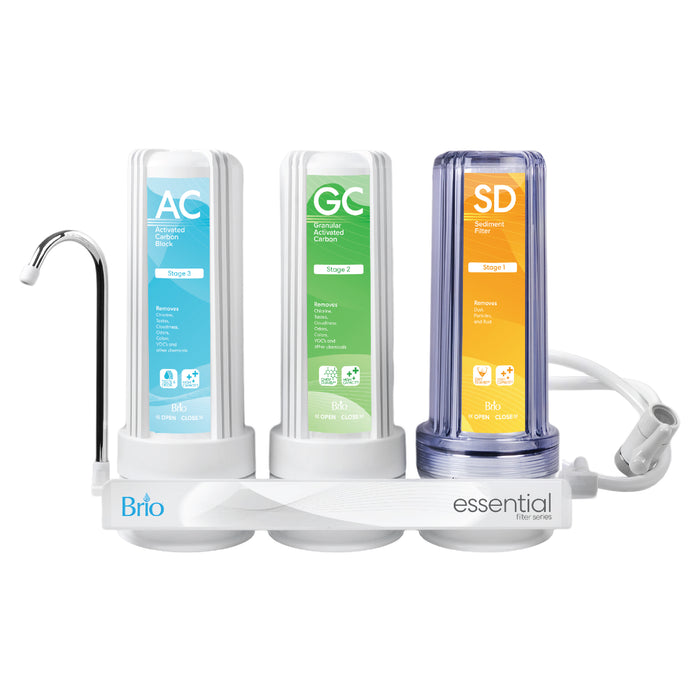 3 Stage Undersink Drinking Water Filter System, Brio Legacy
This three-stage system features quick-connect filters that have high filtering capacities. For our consumers convenience, they only need to be changed every six months.
The first stage of this system is a sediment filter that traps particulate matter such as dirt, silt and rust, which affects the taste and appearance of water.
The second stage of this system is a GAC filter that removes contaminants that cause foul odors and unwanted tastes. 
The third stage of this system is a granular carbon block filter that eliminates any remaining contaminants such as lead, chlorine and fluoride.
Included with the system is a modern faucet that is made of food-grade metal. It features a corrosion-resistant finish to ensure quality and longevity.

Access to pure water has never been easier with Brios Legacy 3 Stage filtration. The filter conveniently fits underneath the sink and leads to a FDA-approved faucet. The featured faucet has a stylish and modern design, so it lends a classy touch in any setting. The one stage filter powerfully removes contaminants commonly found in water while remaining compact, as to be neatly tucked away without disturbing its surroundings. Enjoy refreshing water in every cup when you use Brio Legacy.